Quick width changes between pours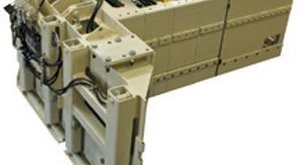 Guntert & Zimmerman's New Telescopic End Sections allow the contractor to perform width changes quickly and with fewer personnel. The Telescopic End Sections give the contractor 6 feet (1.8m) of quick width change capability on both the G&Z S850 and S1500 Slipform Pavers. A width change which could typically take a four person crew no less than a full day can now be performed by one or two people in two hours.

The new end sections can be specified as an option during the purchase of a new G&Z Slipform Paver or can be retrofitted to any existing G&Z Slipform Paver. The Telescopic End Sections will also be available as an option on G&Z's New S600 Multi-Purpose Slipform Paver.

The G&Z Telescopic End Sections answer both the need for quick width changes as well as the ability to achieve smooth pavements. Giving up that smoothness to gain functionality was never an option when developing this new option. It has always been a source of pride for G&Z that its customers are confident in the smoothness produced by its rigid and high production slipform pavers. Because of the quick width change capability the contractor has a better chance of paving every day.