Robotic hydrodemolition is fast and efficient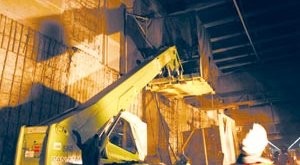 GTS, an infrastructure and general contractor, is using the latest generation Aqua Cutter HVD Evolution robot from Sweden's Aquajet Systems for hydrodemolition on Montreal's Highway 720 Ville Marie Tunnel – a key arterial east-west highway across the city.

Purpose-ordered through local distributor Pompaction, it's the first HVD Evolution hydrodemolition machine in Quebec and the Maritime Provinces.
The use of hydrodemolition techniques on the project will ensure that no rebar is damaged, minimize the risk of removing good concrete, eliminate dust and crystalline silica, and provide a superior bond surface.
This is also a substantially faster technique than mechanical removal methods and is considerably less labour intensive.

The three-kilometre-long tunnel was opened in the mid 1970s and features a mix of three, four or five lanes along its route. More than 100,000 vehicles use the tunnel each day so it is essential that traffic restrictions be minimized.
The GTS contract involves replacing approximately one kilometre of concrete on both sides of the eastern portals directly below Palais des congrès de Montréal and close to the Jacques Cartier Bridge.
Concrete is being removed to a depth of 125 mm, exposing the old rebar. This concrete is then replaced and an additional 100 mm of new concrete added, with new rebar for further strength, for a total thickness of 225 mm.
In replacing the old concrete, the opportunity is also being taken to reroute electrical and telecom cables and fibre optics into a common conduit and install new improved lighting in the tunnel.

Chequered pattern of concrete removal was specified taking into account structural design loadings of the tunnel wall. Alternate sections measuring 2.4m by 5m in height along the bottom level and zero to 15m along the upper level at the portal are undertaken at a time.

Close to the portal exit, two areas over a length of 15m were found to be particularly unsound and in very poor condition. The client therefore specified that for safety of the workforce, the entire section should be removed in a single operation.

GTS had initially allocated two shifts a day for the hydrodemolition process but the speed and efficiency of the Aqua Cutter Evolution makes it possible for the contractor to work just a single daily shift for the operation.
Project manager Michel Francoeur had previous experience with hydrodemolition techniques using a standard Aqua Cutter robot rented from Toronto for a bridge deck slab project in Montreal.
"We had been very impressed with the performance and quality of work recognizing the potential for this tunnel project," he said. "On winning this contract we took delivery of the new unit together with the Power Pack, a PP700, and we have not been disappointed."

GTS started work on the contract in August 2009 and plans to complete the work in October 2010. Work along the slow-lane tunnel wall will be finished by March, 2010. Operations will then be switched to the fast-lane side of the tunnel, closing the outside lane.
Operating in live traffic conditions with very heavy traffic flows and working at heights of up to 15m, it is essential that the contractor protects both its workforce and passing traffic from falling debris.
As a result the robot is installed behind a protected frame and positioned on a telescopic handler for ease of access for the extended height operations.

Height of operation was key factor in choosing Aquajet
The Aqua Cutter is thought to be the only robot in the world that is able to operate at these heights, of up to 15m, and this was a key factor in GTS purchasing the Aquajet system.
Operating at 1,000 bars, the Aquajet system is using a water flow rate of 260 litres per minute and is achieving a removal rate in the deteriorated concrete of up to 1.5 cubic metres per hour.

"Without the Aqua Cutter, GTS would have used conventional jackhammers to remove the concrete," said Francoeur. Using the Aqua Cutter removes damaged concrete at the speed of several hydraulic jackhammers and more than 25 times faster than handheld hammers.
Power Pack addresses stringent noise regulations

Environmental issues are of increasing importance to hydrodemolition contractors. Stringent regulations are increasing the pressure for operations to be kept quiet to avoid disruption to nearby residents and businesses. Escalating fuel prices and concerns about emissions are also driving the need for ever more efficient plants.

Aquajet Systems has tackled both aspects with the launch of a new power pack that represents a significant advance for the sector and can be used for anything from scarifying to deep concrete removal. The ECOSILENCE Power Pack's noise levels are similar to those of a normal conversation and it can easily save 30 litres per hour in fuel.

The new power pack is the result of a project that Aquajet started three years ago to meet the challenge of engineering and designing a completely new system with noise levels at least 10 dB less than conventional models, and the values from ECOSILENCE are even better than the original target. A reduction of 10 dB is recognized by the human ear as being half as loud.
The choice of a Volvo engine was an important aspect of the development. The engine had to combine power and durability while meeting all of Aquajet´s requirements in terms of flexibility, quality and performance. A key factor was its very high torque range from 1,100 rpm up to 1,800 rpm, which means that the operator never needs to use more energy or power than the task requires. This type of engine was also found to be particularly suitable for the application, thanks to its low noise characteristics and fuel efficiency.

Water flow and pressure can be tailored to suit the application in hand. A water output of 181 l/min at 500 bar uses just 40 l/hr of fuel. The ECOSILENCE can be used to provide up to 261 l/min at 1000 bar utilizing only 85 percent engine power output.

Aquajet has also included features to offer flexibility in transportation and maintenance of the 12, 800 kg ECOSILENCE Power Pack. The 2.8m high by 7m long unit can be delivered either with a roll-off frame for transportation by truck, or can be truck-mounted with ISO container corners. The Power Pack also includes workshop space, to accommodate a workbench, spare parts and accessories.