Eliminate binding in high moisture screening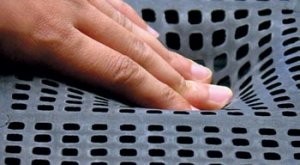 A cost-efficient alternative to traditional wire or screen media products is the specially-formulated, Flexi Series of modular, synthetic screen panels. These screen panels have proven to be extremely effective in eliminating build-up of fines and sticky material in high moisture applications. Composed of highly flexible compounds, Flexi panels provide an optimal spring-like effect that prevents material from clogging screen openings, resulting in greater throughput, minimum maintenance requirements associated with frequent screen surface clearing and more effective processing of the desired particle size, all while running 50 percent quieter than wire cloth and punch plate.
Importantly, the Flexi Series provides greater open area as each modular panel is engineered in a "Maxi" screen panel design with a very narrow outside border that minimizes solid surface area build-up. Open area is further optimized when mounting Flexi panels on Polydeck's patented PipeTop II frame system, with its unique half-inch-wide attachment rails – versus competitive designs with mounting systems that create up to three inches of dead space where fines may build up. Polydeck engineers stress that these key increases in open area, combined with their flexi-style panels, allow greater screening efficiency even within a smaller screening footprint.
Ideally suited to a variety of applications, Polydeck's Flexi Series is available in one-foot by two-foot rubber screen panel designs (both square and slotted) with opening sizes ranging from 1mm to 32mm; and in one-foot by one-foot polyurethane screen panel designs.