Taking crushing capacity to a new level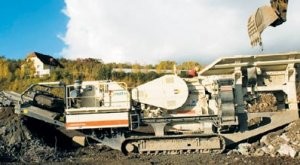 The LT106 is built around the completely new Nordberg C106 jaw crusher, which provides up to 10 percent more crushing efficiency thanks to a new cavity design, longer stroke and optimized rpm. The C106 jaw crusher features a new frame and pitman structure, minimizing the stress levels within the machine and enabling maximum crushing forces. The crusher cavity profiles are of a new design, allowing the easy optimization of cavities for each application. The crusher has a feed opening of 28 x 42 inches (1,060 x 700 mm), providing a maximum feed size of 24 inches (600 mm).
The LT106 can be fed by a conveyor, excavator or wheel loader, and according to the equipment used, a feed hopper size of eight cubic yards (six cubic metres) or 12 cubic yards (nine cubic metres) can be selected.
The LT106 weighs 99,200 pounds (45,000 kg), and its transport width is nine feet two inches (2,800 mm) and height 11 feet one inch (3,400 mm).
To ensure versatile operation, the LT106 can be equipped with a wide selection of optional equipment, including a longer, hydraulically folding discharge conveyor, radio remote controls, a magnetic separator and a high voltage generator.
The sister model, the Lokotrack LT106S, also features a single-deck, detachable screen module, allowing the production of two aggregate grades in a single-stage crushing and screening process.
The detachable, single-deck screen module of the LT106S features a large screening area of 4.3 cubic yards (3.3 cubic metres). Screen mesh sizes from 3/4-inch (20 mm) to 3 inches (80 mm) can be used.
The rotation direction of the screen can be turned according to need, to improve screening capacity or efficiency. For easy servicing and screen mesh changes, the screen module can be opened hydraulically, increasing the operational uptime.
Company info
Related products