New Outdoor lighting Products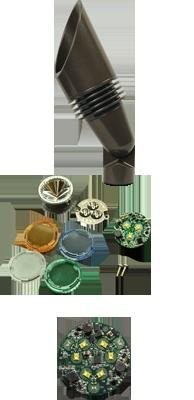 FrèreBébé
Similar in style to its bigger brother the NP, the FrèreBébé fits nicely into smaller landscapes and tight spaces. Accommodating up to a 3 LED Board, the FB offers all the same UpLight benefits of the NP in a more compact package.
FX LED Replacement Kits
Everything you need to upgrade or replace an FX LED Board. Whether you are accommodating plant growth, adding additional light or just want the latest FX LED technology, the FX LED Replacement Kit has what you need to complete the job.
FX 6LED Board
Announcing the introduction of our new FX 6LED Board. Equivalent in light output to a 40 watt halogen the FX 6LED board provides over 77% energy savings. With the same footprint as the FX 9LED Board the 6LED Board utilizes the same optics and mounting holes. It is now available as an option on the NP, PE and VS fixtures.