Replacement hoist for bridge cranes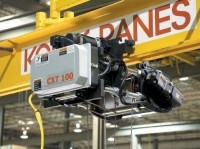 The electric wire rope hoist is a perfect replacement hoist for existing bridge cranes, jibs, and monorail applications; and is also the preferred solution for new one- and two-ton single girder top and under running industrial bridge cranes. The CXT1 is designed with large diameter drums and true lift reeving for longer cable life and accurate load positioning. The hoisting duty-rated lifting motor comes standard with class-F insulation, 60 percent effective-duty rating, a heavy-duty DC hoist brake, and two-speed operation of the hoist and trolley.

The CXT1 boasts an impressive 6:1 hoist motor speed ratio (compared to 3:1 on many competitor hoists) and provides the best slow "spotting" speed for safe and accurate final positioning, without compromising the operator's ability to move loads quickly. The CXT1 hoist features a near true vertical lift and is designed for applications that require performance and precision in areas with limited headroom.