SnowSport Strap maintains constant blade pressure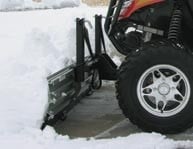 Agri-Cover's SnowSport Down Pressure Strap, when used with any SnowS-port Utility Plow, maintains constant down pressure on the blade, which enhances scraping action.

The SnowSport Down Pressure Strap works great on concrete, blacktop, and pavers to remove hard, compacted snow with a truck, SUV, ATV/UTV, or mower. This system is also turf-friendly and can be used year-round for landscaping projects. Units are quick and easy to install, and feature rip-stop webbed fabric straps and heavy-duty buckles.