Massey Ferguson expands and enhances line-up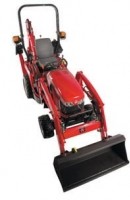 Massey Ferguson has introduced the 22.5-hp GC2400 and GC2410 and the 25-hp GC2600 and GC2610 models to their current line of subcompacts. Units feature a taller hood that raises headlight placement for improved visibility in low light, and the dash has been reconfigured to offer more and easier-to-read, illuminated analog functions for tachometer, fuel and engine coolant gauge.

The platform on the new GC models is bigger and less cluttered. Foot control access is enhanced with the brake pedal shifted to the left side, and side-by-side hydrostatic pedals on the right side instead of a rocker pedal. Plus, available joystick control of front end attachments allows more convenient control of implements, and is integrated into the design of the tractor.
Company info