Canadian company set to pave the way forward to sustainability
Petrobank's Toe to Heel Air Injection technology on the brink of international success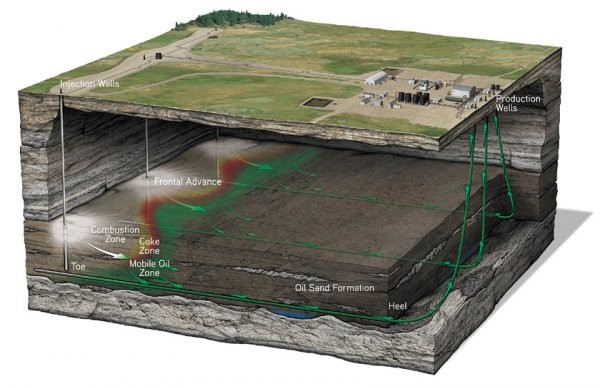 In March 2010, international oil and gas consulting firm McDaniel and Associates confirmed what Petrobank President and CEO John Wright had known for the past half-decade: that Petrobank Energy and Resources was successfully proving the THAI [Toe to Heel Air Injection] process. This confirmation was part of McDaniel's evaluation report for Petrobank's Conklin, Alberta pilot project. The report concluded that the Conklin project alone, with the use of THAI technology, has over 2 billion barrels of exploitable bitumen in place.
This was welcome news to Wright whose Calgary-based company has been hard at work perfecting its proprietary THAI heavy oil production technology. More importantly, according to Wright, the success of THAI is a significant step toward a more environmentally sustainable oil sands. And that's a step that the public, government, and environmental organizations have been demanding in the past few years.
"THAI is part of an industry-wide technology evolution in global heavy oil production," says Wright. "With processes like this, we can extract significantly more resource and have significantly less environmental impact than mining and traditional in situ production technologies."
The THAI process essentially matches in situ combustion with a horizontal and vertical well pair. The combustion is controlled by air injected into the "toe" of the two wells and the combustion front slowly sweeps toward the "heel," mobilizing and upgrading heavy oil for production to the surface.
"THAI lacks the environmental footprint of a lot of the heavy oil production technologies that have come before it," says Wright. "We don't use natural gas, we're actually a net water producer, and we produce very little CO2."
"It's that kind of environmental sensitivity that will be a standard for energy production in the future," he says. "Sure, we produce energy for people, and people will continue to demand it. But they will also continue to demand that we have less of an impact."
THAI was born in the 1990s when many heavy oil deposits were either considered inaccessible or required large-scale mining, such as Canada's oil sands. It was initially the brainchild of Dr. Malcolm Greaves, who was the head of an incremental recovery group at the University of Bath in England. Dr. Greaves' team used numerical simulation models and 3-D physical simulation models to evaluate several technologies, including THAI. Initial tests resulted in proof, at a laboratory scale, that THAI was a potential game-changer.
Enter Dr. Conrad Ayasse, who in the early 1990s was the chairman of the Petroleum Recovery Institute, an Alberta-based institute mandated by the provincial government to seek out new technologies worldwide. Dr. Ayasse recognized the potential of THAI and proceeded to patent it, along with another technology called CAPRI, which is an enhancement to THAI.
Around the year 2000, the Petroleum Recovery Institute was rolled into the Alberta Research Council along with all its technologies. At that time, Petrobank began to evaluate the potential of THAI technology for the application in the oil sands and conventional heavy oil. After a rigorous evaluation, Petrobank acquired the technology and proceeded to move it from the laboratory to the field – Petrobank's Conklin project.
After five years operating the Conklin pilot project, Petrobank began its first commercial THAI project in Kerrobert, Saskatchewan in late 2009. The company has also now launched two more commercial THAI projects in Alberta, called the Dawson and May River projects.
"Kerrobert, Dawson and May River are just the stepping stones for our plans to commercialize THAI internationally," says Chris Bloomer, CEO and senior vice president of heavy oil at Petrobank.
"We already have plans for heavy oil THAI projects with our sister Colombian company, Petrominerales, and we will soon announce other licensing announcements on a global scale."
Greening heavy oil production
Bloomer says it's smaller and more agile companies like Petrobank that are leading the charge in technologies that are making heavy oil production – and the oil sands – greener than it's ever been. Petrobank is part of a group called the In-situ Oil Sands Alliance (IOSA), a collection of six companies which are developing and using a range of different in-situ heavy oil processes. In the oil sands, energy companies will need to employ in situ methods for as much as 80 percent of the resource in the area. Just that statistic alone demonstrates the future value of new in situ technologies on the horizon.
Says Bloomer; "Many of the IOSA companies represent the future of our industry. That's a future where we have all the energy the world needs, but at much less environmental cost."