Capacitors crank all engine sizes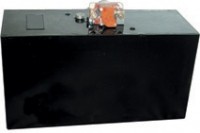 Cantec Can-Crank Capacitors are available to assist all engine size starting needs.

These 12 volt and 24 volt EDLC (Electric Double Layer Capacitor) capacitors are available in several sizes, dependent on applications, and are high power devices which are safe and fully compliant to meet the demand of today's engine cranking, accessory laden, parasitic load, cold temperature and depleted battery vehicles in the on and off highway heavy duty industries. Cantec Can-Crank has more power to crank an engine than four group 31 batteries. They can repeatedly crank engines to higher rpm more quickly than batteries, and Cantec Can-Crank can be fully recharged in less than 10 seconds. Imagine a vehicle has been parked for a period of time with the accessories left on. The operator must use your equipment to get the job done; the only problem is, the vehicle won't crank. Now imagine a Cantec Can-Crank installed. Now there is no down time and no jumpstart costs.

Cantec Can-Crank has been specifically designed and engineered for the heavy-duty market, with models ranging in sizes to crank 200 hp to 600 hp, 8- to 18-litre size diesel engines. Cantec Can-Crank can also be used with any internal combustion engine, regardless of size.