Rollers provide efficient compaction force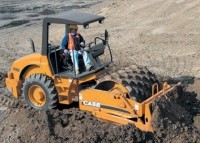 The Case 200 Series vibratory compaction rollers includes four single-drum vibratory units with operating weights from 15,741 to 31,553 pounds (7,140 to 14,325 kg) and engines from 100 to 148 hp (75 to 110 kW). The Case SV208, SV210, SV212 and SV216 give customers powerful solutions in compaction applications for road and highway construction, residential and commercial construction, waste management and rental.

Case rollers come in a smooth-drum configuration for compaction of loose and semi-cohesive material and rock fill. The padfoot model is designed for semi-cohesive and cohesive materials. An optional shell kit is available for the smooth-drum model to convert it to a padfoot for maximum versatility. Drum widths range from 66 inches on the SV208 to 87 inches on the SV216.

Case SV200 Series rollers offer dual vibration modes, adjustable amplitude and frequency, and centrifugal forces from 29,225 to 73,125 pounds (130 to 325 kN). With maximum working speeds up to 3.72 mph (6 km/h), the rollers are built for efficient compaction. Case rollers can operate up to 36 hours between refills.

The heavy-duty articulation and oscillation joint provides maneuverability with 36-degree articulation and ability to compact over uneven surfaces with 12-degree oscillation. Rugged and thick side plates protect the drum and machine.