Moxy articulated trucks with permanent 6-wheel drive and independent front suspension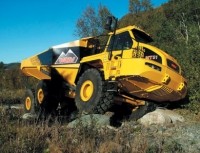 The Moxy plus 1 Concept offers a larger load capacity in all weight class categories. Additional load capacity, combined with Moxy's power and traction, provides improved productivity. The Moxy articulated dump truck is designed to work under rough conditions but can also travel at speeds up to 50 km/h.

Moxy's free-swinging, rear tandem bogie and special articulation system offer excellent performance and the best possible ground contact in soft and difficult terrain. The sloping rear frame, in combination with the track width, ensures a low centre of gravity and sideward stability, thus removing the need for wide, low profile tires. One of the main highlights of the Moxy concept is the location of the turning ring in relation to the swing point. The turning ring is located in front of the swing point which always ensures equal weight distribution to the front wheels in all situations, even during maximum turning. Equal distribution to the front wheels makes it possible to use the differentials with only 45 percent locking value, while still having good steering ability. Moxy's unique independent front wheel suspension allows for free movement on one side without movement on the opposite side, giving maximum ground contact and shock absorption. The Moxy concept offers permanent 6-wheel drive, ensuring equal power distribution to all wheels to accommodate any job site situation, a significant advan- tage in rough terrain. The outstanding interaction between the main components in the driveline ensures maximum traction performance and durability. The automatic, central lubrication system is standard on all Moxy models.