Tier 3 engine repower on compact wheel loaders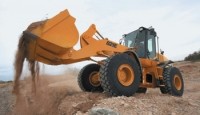 Case Construction Equipment has repow-ered the engine on its E Series compact wheel loaders with a 3.2-litre Tier III-certified Case engine. The Case 21E, 121E, 221E and 321E feature Versa-Boom linkage for excellent reach, visibility and precise parallel lift, increased bucket roll back for greater material retention, a comfortable cab, and easy access to service points.

The Case E Series compact wheel loaders deliver between 54 and 82 net hp (40.3 and 61.1 kW). Operating weights range from 10,168 to 12,676 pounds (4,612 to 5,750 kg), while bucket capacities range from 1.05 to 1.44 cubic yards (0.8 to 1.1 m3).

The Versa-Boom design offers enhanced visibility to the coupler and attachments throughout the lift cycle for precise positioning of the compact wheel loader. The parallel lift on the Case E Series compact wheel loaders has a variance of less than one degree through the complete lift cycle for more accurate material handling. This allows the operator to concentrate on moving materials, rather than making adjustments to level the load.

The long reach of these compact wheel loaders allows operators to easily work from one side of a flat bed truck when loading and unloading palletized material or filling hoppers.

Case E Series compact wheel loaders feature a roomy cab designed to comfortably accommodate the operator. Curved glass in front and rear, along with a sloping rear engine compartment, provide a panoramic view for maximum visibility. An ergonomic operator environment, featuring tilt column steering wheel, full adjustable suspension seat, and conveniently located right-hand console controls keep the operator comfortable through the longest jobs.

Convenient serviceability is designed into Case compact wheel loaders, making these machines extremely easy to maintain on the job. The flip-up rear hood provides ground line access to the engine and all recommended daily checkpoints. Fluid sight gauges are positioned at eye level; and the dual element air filter can be checked without tools. Oil changes are effortless with a spin-on oil filter and remote drain.

Case E Series compact wheel loaders are equipped with a two-speed, hydrostatic transmission that allows travel speeds up to 12.4 mph (20 km/h). An optional high-speed transmission on the 121E, 221E and 321E can deliver a top speed of 21.7 mph (35 km/h).