Mulcher features Cat engines and hydrostatic drive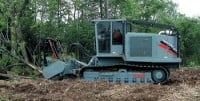 The purpose built Bron 400 mulcher features quality Cat engines and hydrostatic drive for the power and control you need for seismic line, right-of-way maintenance and land clearing operations. Bron mulchers are designed for operator comfort, visibility, safety and ease of operation. All components are easily accessible for routine maintenance and cleaning.

These mulchers are available in a wide range of models with choice of cutting head attachments to suit most applications.