Sand dewatering unit uses minimal power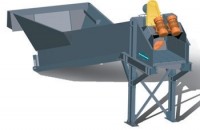 GreyStone will be introducing the Aggre-Dry FMW Screen. The 36-inch Aggre-Dry sand dewatering unit combines a fine material screw and dewatering screen to produce sand and gravel products with a moisture content as low as 8 to 13 percent, by weight, while using only 30 hp to wash and dewater up to 100 tph. Working as a single unit, the Aggre-Dry's inclined single-spiral fine material washer (FMW) initially dewaters the material. At the same time, the rotation of the dewatering screw scrubs the material to help remove surface dirt. The action of the screw flights sends the sand up the inclined tub. The vibratory dewatering screen further removes moisture from the sand. Finally, in its most innovative feature, this GreyStone unit re-introduces the throughs from the screen back into the screw's washing process, where the screw again pushes the material to the unit's dewatering screen, increasing the amount of salable product.

In addition, GreyStone also will display its 6-foot by 12-foot dewatering screen and a complete 8-foot by 32-foot classifying tank.