Pilot project shows promising results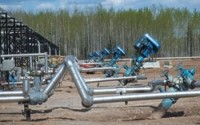 KUDU Industries' pilot project with the PCM Vulcain* shows promising results. This high-temperature Progressing Cavity Pump set a record 8,600 hour pump run using a 550MET750 PCM Vulcain and KUDU drivehead with high temperature Oryx Seal for a SAGD project in Alberta. The PCM Vulcain provided a fast and successful well startup as well as improved handling of low, erratic inflow and changing viscosity. "There is an industry need for a high-temperature pump in bitumen production," said Alex Damnjanovic, business development, KUDU Industries.

• Precise well control The PCM Vulcain is the only artificial
• Efficient pumping system lift to operate in temperatures up to 350
• Low operating and maintenance costs degrees C. Excellent for SAGD and CSS
• Versatile pumping capabilities applications, the PCM Vulcain keeps
• No shearing or emulsions your operation running smoothly by KUDU Industries Inc.