Manufacturing and distribution company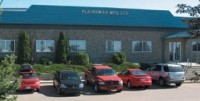 Plainsman Mfg. Inc. is a locally-owned manufacturing and distribution company operating out of Edmonton, Alberta since 1966. The company manufactures and distributes a variety of products for oilfield production, pipeline maintenance and construction, gas and water distribution, cathodic protection and other industrial applications. Its engineering department designs and develops new products as well as providing support for the existing product line.

Plainsman is currently operating out of a 44,000-square-foot facility on the south side of Edmonton. It is dedicated to providing customers with the best possible service, maintaining a large inventory at its Edmonton location. Continued registration of their ISO 9001:2000 quality assurance system since 1994 reflects its commitment to quality and service. Plainsman is constantly seeking out new and better products and services to meet its customers' requirements and the ever-changing demands of industry. Plainsman has built a solid distribution base with oilfield supply stores, OEMs, pipeline companies, contractors, end users and utility companies.